Clark January 18th, 2017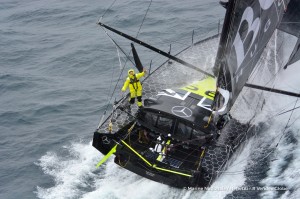 If you haven't been following it, the leaders in Vendée Globe are within a day or two of finishing, to cap one of the greatest games of cat and mouse in sailing history. At the time of writing, after racing for 73 days and over 24,000 miles solo, Alex Thomson is only 34 miles behind Armel Le Cleac'h.
Alex Thompson has slashed the gap by two thirds in the last few days, in part by setting the Vendée single day record. Video here. You will also see in the video that Mr. Thompson is battling multiple equipment failures, but still fighting to the end.
Thompson acknowledges that it would be tough to win at this point (yet he keeps closing the gap!) Full story here. He's been up for days, and is on the verge of collapse.
At any rate, in the next 48 hours we're going to see either:
1. Thompson overtakes Le Cleac'h to be the first non-Frenchman to win the Vendée Globe. In this scenario, could the Vendée Globe get into close tactics? Le Cleac'h luffing Thompson up as they turn off the autopilots a go into full close battle mode, when neither have slept in days dodging fishing boats and freighters, hallucinating at the wheel? Unlikely, but would be something for the record books.
or
2. A very close finish, in which Le Cleac'h crosses the finish line, then just has to wait an hour or two to embrace the man he has battled all the way around the world. The two have thought about each other every moment for 75 days, yet haven't see each other's faces since the start. When they finally meet face to face, it will be a moment to remember.
3. Or some crazy thing we never could have foretold…
Ways to watch it are here.