Clark August 1st, 2016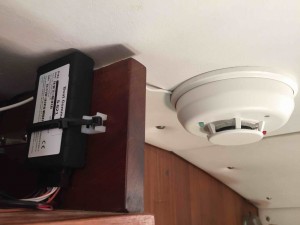 The manufacturers of Boat Command, the boat monitoring platform, didn't build the system with a smoke alarm option. It's got all manner of sensors, inputs, and alerts, but no smoke alarm, and if you read Boat US's statistics on boat losses and insurance claims, fire is number five. Stats aside, the main things I worry about while I'm away from my boat are flooding (that's a big number 1), fire, break-ins, theft, and dead batteries. These are the main reasons I installed the Boat Command system, but it does lots of other neat stuff too. Full disclosure: as a marine electrician I install a lot of these systems, and I'm a dealer for the product.
While neither Boat Command nor the smoke alarm manufacturers make it obvious, it's a very straightforward to add a smoke alarm to the system. As you can see from the photo above, the right place for a smoke alarm on my boat is about a foot from the Boat Command CONNECT! base station, so running the wires was a snap.
Within the Boat Command platform are several functions that can be renamed and repurposed. One of these is the High Water Alarm, which is just a normally open (NO) relay to ground, designed for the connection of any old float switch: Float is down, circuit is open and no alarm; float goes up, circuit closes and ALARM! via text and/or email, and on the Boat Command dash board. Since Boat Command has "belt and braces" coverage for flooding, via detailed activity monitoring on two bilge pumps AND the high water alarm, I could repurpose my high water alarm as a smoke alarm. On my boat the second bilge pump essentially IS a high water alarm, as in, if it triggers then something is seriously wrong.
Repurposing is very simple: On the drop-down menu on the Boat Command dashboard select Boat Settings/Inputs, where you will see various inputs, all of which can be easily renamed. Just change High Water Alarm to Smoke Alarm and click Save Input Settings: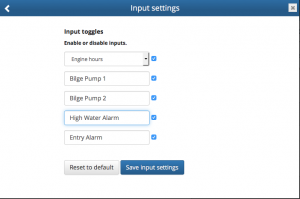 becomes…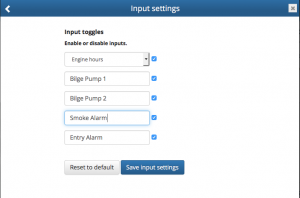 Simple enough so far. Now, onto the smoke alarm. The smoke alarm manufacturers don't advertise it either, but on what is commonly called a "Four-wire smoke alarm," two of the wires are, guess what?, a normally open (NO) relay, which closes when the alarm is triggered. I think the reason they don't advertise it is that these smoke alarms are usually part of large networks that connect to a sophisticated central monitoring computer. Think 90 smoke alarms on six floors, all connected to a central panel. They're not used to selling just one to some dude for a single-unit installation.
The two sides of the relay are two out of the four wires. The other two are for 12 or 24-Volt DC power. This is another great feature: it means that the smoke alarm can be powered from the same terminal strip as the Boat Command base station, the smoke alarm is powered from ship's power, and you will never have to change batteries or deal with annoying chirping noises.
Here is the base of the smoke alarm, with the + and – terminals being ship's positive and negative, and the two A terminals being the two sides of the relay. It doesn't matter which way you connect to the two A's. I happened to use 4-conductor cable with red, black, yellow, and green wires: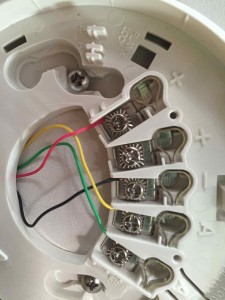 I used this smoke alarm, but again, I'm 98% sure that any four wire smoke alarm will do the same thing. It cost about fifty bucks.
Then I just had to connect the two power wires from the smoke alarm (red and black) to the + and – connections on my Boat Command terminal strip. One side of the relay circuit (the green wire, in my case) also connects to ship's negative; the other side of the relay (the yellow wire) connects to the orange wire from the Boat Command wiring harness.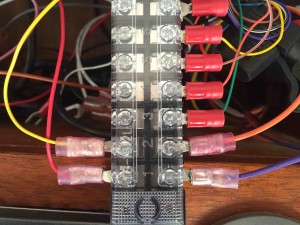 I tested it, with real smoke, and yes, a deafening alarm blasted out of the smoke alarm, which was especially blood-curdling within the enclosed confines of my boat, and fourteen seconds later I got a text from Boat Command saying "Smoke Alarm triggered for Condesa." Now, given that it takes me fifteen minutes to get to my boat from home, it's hard to say how much good this would do with a real fire, but I'd rather know than not know, and there are people I could reach by phone who are closer than I am.