Clark July 7th, 2017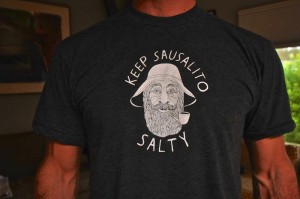 I'm two months into my new job as General Manager of the Spaulding Marine Center, in Sausalito, California. According to Google Maps, work is 2.4 miles from my house. Have I ridden my bike to work? Of course not.
A non-profit boatyard? Yes, all proceeds from boatyard operations go to restoration projects, education, outreach, and other do-gooder stuff. We (meaning Spaulding) owns Freda, the "Matriarch of San Francisco Bay," the oldest sailing yacht on the West Coast. She was originally built in 1885, and the subject of a half million dollar, decade-long, museum quality restoration: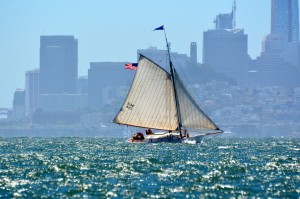 I'd never sailed a gaffer before, but now I've got her wired. She's got one long boom.
Myron Spaulding was the lord of San Francisco sailing. He designed great boats, built great boats, and won great races. He won the TransPac in 1936, as captain of Dorade. Did I mention that all the while he played first violin for the San Francisco Symphony? Don't you hate people like that? We don't hate people like that: we celebrate them, and Myron's legacy is celebrated in just about everything we do around here. Myron passed in 2000.
A year and a half later Myron's wife Gladys passed away. The couple didn't have children (they met later in life), so Gladys left the boatyard in a charitable trust, later formed into a 501(c)(3) corporation, and that's how we became a non-profit boatyard.
Myron and Gladys's ashes sit in urns on a shelf above my desk. When I start zoning out in the afternoon and checking Facebook I can feel them scowling at me, so I get back to work.
The boatyard pretty much runs itself. We've got six boatyard staff, three men and three women, which is unique, and they're all very dedicated. I've learned how to drive the forklift, give crane signals, and I get my hands dirty a few times a week, but I'm mostly an office duck.
It's an amazing place, Sausalito's unofficial maritime museum, with a huge nautical library, sailing magazines dating back to the 1920s, and all kinds of sailing treasures and memorabilia. We're open to the public whenever we're open: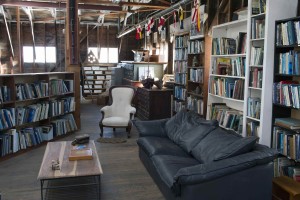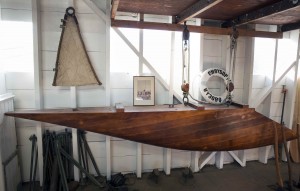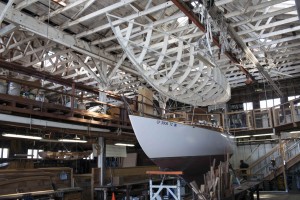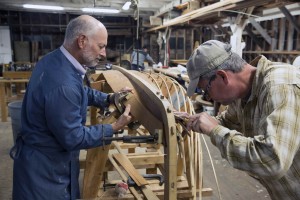 A few weeks ago I opened the place on a Saturday so a group could come ogle our old woodworking tools. Some came from as far away as Central Oregon, and drove all night. Who knew there were people who traveled long distances just to geek out on old power tools?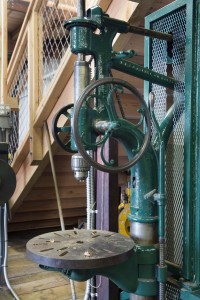 Our coolest project is the SV14, an affordable boat for disabled sailors. The project has been an international collaboration among the builders of the various prototypes and various disabled groups. We're hoping for a launch and test sail later this summer: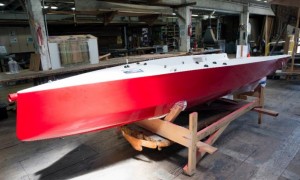 You can check out the SV14 website and Facebook page.
But first we'll have to pour her weighted centerboard, and the likely location will be my backyard. I'm sure the local fire marshall, and my wife, will be totally cool with this, right? Three hundred pounds of molten, toxic metal getting poured into a mold in a hole behind our back deck will be an educational experience for my two small children, right?
Our next restoration project will be Mavis, a 1924 Bird Boat, built here in Sausalito. They were originally called the San Francisco S Class, but so many were named after birds (Curlew, Petrel, etc.) that they became known as Birds or Bird Boats. Several still sail the Bay. Poor Mavis sank in her berth, and was then donated to Spaulding. Gladys Spaulding owned and sailed her at one point, so she's a worthy project, but like Freda, by the time it's all said and done very little of the original boat will remain: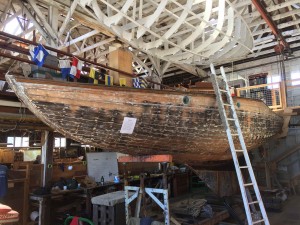 Spaulding offers boatbuilding classes, summer camps for kids, guest speakers, seminars, community sails, and a vibrant social scene for volunteers, apprentices, and all manner of salty folks.
One old customer calls Spaulding "hallowed ground." Across the floor are still marks where the frames were laid, and a hole drilled up through the floor for the rudder post of Chrysopyle, one of Myron's masterpieces. Another of his masterpieces, Suomi, was lost with all hands in what might still stand as the worst yachting accident on the California coast. In 1955 she was hit by the Swedish ship Paramatta off Point Arguello. Yet, we have two of her life rings hanging on the wall, and nobody knows where they came from. Did they survive the wreck, or did we make extras?: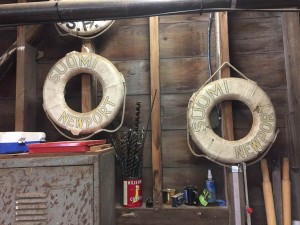 Come visit anytime. I'll be here.