Clark December 16th, 2015

After Brian Hancock's post on life jackets, To Wear Or Not To Wear, and his subsequent Mea Culpa, it may be very dangerous to approach this subject, so I will do so carefully.
In 1973, when I was a small child, the US Coast Guard changed the nomenclature for lifejackets and created the Special Purpose Categories, categorizing them from Grade I to Grade V.
We've all been confused ever since.
One thing seems to be here to stay from the 1973 standard, the term Personal Flotation Device, or PFD. Before that they were lifejackets, life vests, or life preservers.
The Coast Guard has now accepted that everyone has been confused for 40 years, and they're changing the nomenclature once again:
"The purpose of this final rule, which removes references to type codes in our regulations on the carriage and labeling of Coast Guard-approved PFDs, is to facilitate future adoption of new industry consensus standards for PFD labeling that more effectively convey safety information, and to help harmonize our regulations with PFD requirements in Canada and in other countries."
Once again they will be lifejackets, life vests, life preservers, or PFDs, if you prefer. None of this will take affect until 2017, so the life jackets hanging in your local chandlery still have the type codes on them, and life jackets with the type codes will be grandfathered into the new policy, and will go on being legal. The whole federal code reportage is here.
The labeling, instead of the type codes, will move to pictographs and simple explanations, which boaters will find easier to understand: Offshore, Near Shore, Floatation Aids, Throwable Floatation Aids, and Special Use Devices.
The sticky part with the type codes was Type V, which was the unclassifiable/provisional/weirdo type, where they would stick a life jacket that didn't fit any of the other categories. I know for a long time they had trouble with automatically-inflating life vests, which have become de rigueur for their comfort and compactness: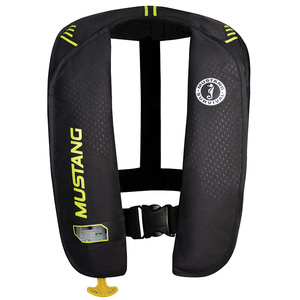 Since these automatically inflated, and the automatic inflation device had to be replaced/serviced at intervals, the Coast Guard had trouble classifying them and approving them. Even now they're listed as being "Class V, with Class III performance."
I think the end result of the new rule will be good for boaters, not just for the clarification, but for the increase in variety: If we harmonize our system with the rest of the world, then the rest of the world's lifejackets will be legal here. We'll have more options in front of us, and maybe better prices.
For me the future of lifejackets all comes down to this type of device, the automatically-inflating life vest combined with a harness:

I'm one of those jerks who has never worn a lifejacket in his entire life, never fallen overboard, and never known anyone who has fallen overboard, but I've always been a big fan of clipping in. The rule on my boat is that anyone outside of the cockpit, which I deem deep and safe in most conditions, must have a harness on and be clipped into the jacklines when on deck. In other words, I want to be dragged to death rather than drown.
Wearing a harness isn't particularly stifling or intrusive, while wearing a lifejacket can be. One of these inflatable jobs isn't much more claptrap than a harness, and then if you combine it with a harness, voila. But I wonder how it will be classified?