Clark November 13th, 2014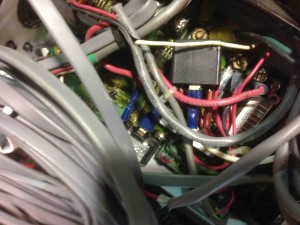 Distributed power systems (or digital switching systems, or smart power systems, or intelligent, or multiplexing power systems…the industry is still settling on a name) are going into many new boats. I have a friend in the luxury power boat business, and he says distributed power systems save thousands of dollars, and reduce weight by hundreds of pounds, on every build. For builders it's definitely the way to go for shipboard electrical systems. But is it right for owners?
If you're not up on these systems, here's what they do: Take the bow of your boat, where you might have some navigation lights, a windlass, a couple of reading lights in the forepeak, and a fan over the bunk. In a conventional installation you'd have a big set of cables running up to that windlass, a pair of wires to serve the nav lights, a pair to serve the fan, and a pair to serve the reading lights, but lights are often wired in parallel so that a pair of wires serves several cabin lights. In this conventional system, each circuit would have its own switch and its own fuse or breaker.
In a distributed power system a single pair of cables would run to a central location in the bow and terminate in a node or remote controlled breaker module (again, the industry hasn't settled on one name). From this node, wires would branch out to the windlass, the nav lights, the fan, and the reading lights, but each device would be turned on and off through computer wizardry. You'd still have on-off switches for your reading lights, but the switches would actuate a breaker/switch within the bow node. All of these devices could also be controlled from a central location aboard.
The advantage of such a system is that instead of running four sets of wires to the bow, you only run one pair of cables and a tiny set of signal wires. Multiply this effect throughout a large boat with a complicated electrical system and it reduces the amount of wiring, and the time to install it, by a lot…by hundreds of pounds of wire, my friend says.
If you want to get fancy with one of these systems, the sky's the limit. You could have a program, served from the central location, called "Night Sailing." You press the night sailing button and the nav lights come on, the wind instruments, the electronics, and some very dim red footlights in the main cabin. You could have another program called "party time," another called "night motoring" (add the steaming light), and one called "at anchor." The system could tell you when a bulb blew out, or when something was consuming more power than normal, or when a bilge pump was running more than it should, or how cold it is in your freezer.
Manufacturers include Carling, with its Octoplex platform, Swedish company EmpirBus, and Capi2, just to name a few. Ben Ellison has written extensively on the subject on Panbo.
The problem with these systems, or the potential problem, is summed up in one word: Computer. There's that saying about how to err is human, but to really screw things up it takes a computer, and I think I'd rather not have a computer controlling the juice to my shipboard electronics when I'm trying to thread the needle between a couple of ice bergs in shallow water to get into a tight anchorage before the storm blows in: "Oh yeah, no big deal, just have to re-boot the system and it'll be fine. Oh wait, it seems to be hanging up. Let's try de-powering it completely then re-install the configuration file…" You get the idea.
As I've said before, marine electricians and marine electronics experts (except those who make distributed electrical systems) seem more apt to quail at the mention of anything "networked," be it the boat's whole power system or just the electronics. We like things simple and field repairable.
Hallberg-Rassy uses the EmpirBus system on all of their new builds. The pages in the owner's manual (section starts on page 20) that refer to the "state of the art distributed power system" scare me out of the whole idea: the recommended spares, troubleshooting, and contacting the EmpirBus dealer in say, Palau. With a conventional electrical system you could get away with a spares kit consisting of spare fuses/breaker, some wire, and some crimp-on lugs and connectors…and any marine electrician, anywhere in the world, could repair your system.
Manufacturers claim these systems are fairly dependable, but bugs, interoperability issues, and vendor reliability are always at play with any technology.
Still, the technology is probably too good to pass up on new builds for larger boats. Distributed power systems have been used on aircraft for decades and very few seem to fall out of the sky. Commercial aircraft have thousands of circuits, and some of these newer yachts may come close, but on an average cruising boat I draw the line. I'm saying there's a sweet spot – somewhere – and below that it's just not worth it.
I counted all the circuits on my 40-foot cruising boat, and I've got most of the gadgets. Forty circuits. All the lights, all the pumps, all the electronics, all the blowers and fans, and it adds up to forty different electricity-consuming devices. Forty circuits just doesn't add up to enough complexity to warrant a distributed power system, in my book.
And here's a second reason to ponder: LED lights. I've only changed a few of my shipboard lights to LEDs, but over time, as the old fixtures fail or get uglier, I'll eventually switch all of my lights to LEDs. LED lights use less power, produce less heat, and thus use smaller wires. If one of the main goals of distributed power is to reduce wire weight, LED lights accomplish much of this same end when you consider that the majority of your onboard circuits service various lights. (Of the forty devices on my boat, half are lights.)
The current ABYC standard says that 16 gauge is the smallest wire you can use aboard a recreational yacht, unless it's strictly a signal wire. Sixteen gauge is overkill for most LED lights. The pigtails coming off some new LED light fixtures are 20 gauge, maybe 22 (this is very small, like the size of a strand of dental floss). Point being, with wire this small, even at 18 or 16 gauge, you can serve all the lighting needs of an average cruising boat and the weight and complexity will be negligible. The wires feeding LED lights won't be much bigger than the signal wires in a distributed power system. In other words, with or without distributed power systems, the wiring looms on the boats of the future will be much smaller anyway.
Don't get me wrong, there's definitely a place for distributed power systems in the marine world, and there's no stopping progress, but I think it's overkill and overcomplicating things for the average cruising boat. By average I mean a boat about like mine with something like forty circuits, and by cruising boat I mean likely to be in a place where parts and expertise may be months away.